The Vblurpage Forum Awards 2017: THE RESULTS
Woo-hoo!
So here we are. 13 months and 3 days after the anticipation for the Vblurpage Forum Awards 2016 ended with a typically lavish, stylish and prestigious ceremony, with eager forumers swooning at the mere mention of them winning an award, it is time for our lovely forum to repeat the glamorous event once more. To ease the bets that people have been making on who wins what. To end the vitriolic fights in pubs and streets about who voted what. To pump out expensive sponsorship deals with Fred Perry and Parlophone Records. And to cement the celebrity status of our belov'd forumers.
It has to be said, last year's 2016 forum award ceremony was much better timing. Riding at the crest of a whip of magic, it documented and referenced a year as particularly prosperous for Blur as 2015. Thirteen new songs, four new music videos and one new Britannia Tea Set. Relative to that wealth, all 2016 gave us was endless
more
chatter about an esoteric, unfinished 1995-96 documentary film entitled
B-Roads
. Perhaps this is relative of the glamorous side of the music industry going down the tubes. Last year's Blur Forum Awards coincided with the UK Singles Charts allowing streaming to become eligible. And this year's forum awards coincide with that practice's absolute nadir, with basically every song in the Top 20 being the entirety of Ed Sheeran's new safe and forgettable dog turd Multiply, one for the speakers in Sainsbury's Cafe or for background music on ITV2 promo.
As Tom Ewing of Freaky Trigger so elegantly noticed, the UK Singles Chart can no longer serve the purpose it did for over 60 years. Not just a reflection of pop music as consumer activity but also pop as Pop, the story of Pop, crossover appeal's leading format. The music that got people intrigued. Radio and music magazines used to make records popular, and they were packages of variety. A hasty, lazily compiled Spotify playlist on the other hand is focus group designed as a psuedo-niche. In terms of its chart mainstay, it succeeds in extending what's already popular rather than offering other music. It's not triumph for the UK Singles Chart as a story of pop music when consumers are preferring to put on Spotify's specific, yet mass market playlists over the better-by-design (at least in variety terms) radio. The songs that define the UK charts have been cultural artifacts in their own right, and not every artist gets plenty. Ed Sheeran's will-be-forgotten album-only non-artifacts cornering the charts is a product of his fans and Spotify's comfortably-designed-for-the-lazy playlists. Ed or no Ed though, the glamour of the charts is dead now that the consumer has outlived the format.
So excuse these awards for coming at a poor time. Perhaps future music biographers and pop culture historians will use these 2017 awards as an epitome of the many negatively-affected miscellany. For documenting one jump to the other. There is sure a lot to talk about in pop music but the surface shows none of it. Damon and the boys' hiding from public view is both perfectly and awfully timed. Perfect because it only serves to highlight the malaise we live in, but awful because it's painful.
But fret not. We are a happy bunch. We are all Mr and Mrs OKs. This ceremony will be one of optimism. Things
can
change for the better. If the struggle means people have been less interested in the 2017 awards than they were 2016 (i believe only half the amount of people voted this time) then at least its painting a picture. One for the journalists of hereafter to chew. These are transitional times, and we will learn to adapt.
And who's to say this ceremony won't be fun. I can guarantee you it will not be grey. In fact, everyone's got a huge eager smile on their face. This will be delightful, and it won't be a mere prettily-dressed folly as a means of distraction but a sign that were are buckling up and moving forward. In fact, I just saw Damon in the VIP area and his smile doesn't lie.
And may we all get shitfaced drunk and start puking and singing old Blur B-sides and laugh about that time something happened last year and that time something didn't. This is both a celebration of 2016 and a way of looking to the future with our arms wide open, where the universal's free. But the future has not been sold. So without further ado, let's embrace 2017!!!
(By looking back at 2016.)
THE BLUR FORUM AWARDS 2017
Sponsored by
1. BEST MALE
Winner: AdvertBreak (3 votes)
Runners-up: Mallard No. 22, JAIME, MrMagpie and TripleJay97 (1 vote each)
As per usual, our ceremony begins with Best Male, an award given to the, um, best male. The Vblurpage forum award of 2016 had a lot of males, to be perfectly frank. So I'm surprised to find that I'm the winner
You're too kind. And it also means a lot to me at this critical low point so many hugs <3, and I'm to place the trophy next to that other prestigious trophy of mine, the smiley face sticker I once got in year 2 in school for good behaviour or something. Our trusty sidekick Mallard No. 22, Damon-loving JAIME, here today-gone tomorrow Beatles obsessive MrMagpie and Primary Colours lead vocalist and unwilling victim of the
Pearl
album TripleJay97 also get a vote.
2. BEST FEMALE
Winner: MsMagicAmerica (4 votes)
Runners-up: Caitlin (2 votes) and Miki (1 vote)
And now for its sister award, Best Female? Well, look inside, MsMagicAmerica, you're our winner for
the second year
running! And again with over 50% of the votes. If I didn't know any better, I'd say it was magic. I mean, she admits she's magic or does magic in her name, right? Whatever the case, it relegates Caitlin into runner-up and Miki into third place.
3. SEXIEST MALE
Winner: tweedz (2 votes)
Runners-up: tom_cas1 and TripleJay97 (1 vote)
"Who the Fuck?," tweedz might be asking himself if he was quoting his 1998 song. But as it so happens, the dude who you might know from such songs as "Rednecks", "Mornin' Blues" and "Dead Bees", and for playing guitar in the songs "Hurry Up England" and, randomly, "Threadneedle Street", is this year's winner!! And not for the first time either. Last year he had to share the trophy with Rich, MrMagpie, Mark72, munch, tom_cas1, TripleJay97 and Boris the wizard, leading to the awkward situation of them having to cut the trophy up equally, and Gra still has to explain to visitors what the shard of metal on his mantlepiece is. At least this time he can prove he isn't lying. And as this ceremony proves, Tom and TripleJay97 are precisely half as sexy as him. Or at least separately, because put Tom and Jay together and they're match for Graham as far as hunkiness goes.
4. SEXIEST FEMALE
Winner: Caitlin (5 votes)
Now for Sexiest Female, and, well, that's quite the landslide victory! On the behalf of, for the first time,
everyone
who voted in this category, I crown Caitlin the sexiest girl on the forum. Last time she had a lot of runner-ups but they aren't even on the cards this time. No trace of them whatsoever. She the sexiness of females on this forum equivalent to Ed Sheeran's chart dominance if you like, except good.
5. BEST NEWCOMER
Winners: Tracy Josh and moritz (2 votes each)
Runners-up: blurdamongorgeous (1 vote), 2dan4me (1 vote) and 'have we had many newcomers?!?!' (1 vote)
Now, common wisdom correctly believes that I haven't been as (omnipresent) present on the forum in the past year as i had been before then, so I must embarrassingly admit I haven't seen Tracy Josh and moritz in action too much, but I still delightfully bless them Best Newcomer. With 2 votes each, and with blurdamongorgeous and prog rock obsessive and prolific musician 2dan4me only with one vote, the latter two clearly didn't have quite as much of a chance. Heck, "have we had many new comers?!?!" seems to be just as popular an observation as the acknowledgement of them two even existing.
6. COOLEST FORUMER
Winners: Rich and AdvertBreak (2 votes each)
Runners-up: MsMagicAmerica, tom_cas1 and TripleJay97 (1 vote each)
So anyway, who's the kewlest? Rich and I, apparently! I can confirm Rich is cooler than me. For starters, he got to see the Beatles live as one voter jealously pointed out, whereas the coolest (read: geekiest) thing I do in my judgement is write Wikipedia pages on obscure albums. But I thank all voters all the same. MsMagicAmerica, tom_cas1 and TripleJay97 also bag a vote each, the latter of whom, I should add, has gotten his EP reviewed by a
personal friend
at Louder Than War so I mean if that's not cool I dunno what is.
7. BEST THREAD
Winner: B-Roads (3 votes)
Runners-up: New Gorillaz Album (2 votes), The Beatles Thread (1 vote) and all of them (1 vote)
A year without Blur? Hmm, well, Blur fans have gone many years without Blur. Not consecutively, necessarily. But I'm told the heyday of the past forum was in the mid-2000s, when the only thread of Blur news was an EP that never materialised and the fan club single Some Glad Morning (some glad relief that was.) So what happens during these Blur-starved times? The community goes insane. And just like how a hydration-starved hiker in a desert would start having hallucinations after too long, Blur forumers start to turn to that one forever-prosperous forum topic,
B-Roads
. Once a taboo subject, no one seems to even care anymore. And it's funny, because there's plenty of
released
Blur material or footage that never goes a mention, but its the almost-entirely unseen that remains the one self-sustained perpetual cycle, waiting for inspection. It invites interest due to its mystique, but it doesn't reward it. When will you realise, guys?
And so that thread gets three votes. And talk of a new Gorillaz album apparently not quite as popular, or fun, or whatever, because the relative thread for that only gets two votes. Perhaps the boil behind Hallelujah Money tamed some people's enthusiasms (sadly), but there goes. And what do other Blur-starved forumers like most if not driving down B-roads that are concurrently endless yet tipped with cul de sacs, or anticipating Phase Four? Turn to the ensconced yet seemingly endless and endlessly intriguing chatter about the Beatles, or y'know, just to all threads simultaneously. One forumer was also considering the 'How are you doing?' thread. But said forumer decided against it in favour of B-Roads, as it happened.
8. MOST BLUR OBSESSED
Winner: JAIME (3 votes)
Runners-up: rich, Tracy Josh, AdvertBreak and tweedz (1 vote each)
But some people's Blur starvation doesn't tame their interest in the band, and if anything, they will only continue scanning their history over and over. A survival tactic? Perhaps. And if that's the case, it should explain why JAIME's interest in the band became most obvious to everyone else. And it's JAIME's second consecutive win in this category too, even if last year we were in the healthier Magic Whip era. My own interest in said musical ensemble, as well as that of Rich's, Tracy Josh's and said melodic
and
rhythmic group's own angular guitarist Mr. Tweedz was, to some people (well, one person each), even more obvious than that of JAIME's.
9. MOST OBSESSED (about something other than Blur)
Winner: AdvertBreak (3 votes)
Runners-up: KingLouieLouie76 (2 votes), Forever Low Man and Miki (1 vote each)
But you can say that about me if you want, but clearly I've been more obsessed about other things lately. My second win in this category, after the halcyon of 2012, only documents how obsessed I am with writing Wikipedia albums on such 1990s electronic compilations as Happy 2b Hardcore, The Positiva Ambient Collection or Make 'Em Mokum Crazy, or early 1980s Dutch experimental cold wave electropop ultra post-punk albums like Sparks in a Dark Room, or dissonant urban soundscapes from late 1990s Brighton like the discography of REQ, or so on.
But rest assured, I'm not alone in being obsessed about something non-Blur. KingLouieLouie76 gains two votes each, and for
different things
, one for his undying love for The Beach Boys (creators of the album
Summer in Paradise
(C)1992 Capitol Records), and for power pop kingpins Cheap Trick. And Miki gets a sole vote too, for her devotion to the music, lyrics, life and general everything regarding Beck Hansen.
10. BEST AVATAR
Winner: tom_cas1 (2 votes)
Runners-up: Mark72, TripleJay97, ForeverLowMan and 101reykjavik (1 vote each)
Sometimes, a successful avatar is a successful avatar no matter what. Unweathered by time, the striking Ingrid Bergman portrait by Andy Warhol that adorns tom_cas1's profile is a winner for the second consecutive time. Last time I remarked I was eternally unsatisfied by my avatar but I seem to have left it (on here and Facebook alike) as Disco Inferno's seminal 1994 post-rock masterpiece
D. I. Go Pop
now for some time. Maybe I'll change it soon, but for now, if it ain't broke, don't fix it, and that's how Tom treats his avatar. Furthermore, Mark72 (with his MLIR booklet painting), TripleJay97 (with his own, personalised take on pop art), Forever Low Man (with probably some GBV thing) and 101reykjavik (continuing to bless us with the Damon of 1990's choice of literature) all get a vote.
11. BEST SIGNATURE
Winner: Forever Low Man (2 votes)
Runners-up: MrMagpie, munch, AdvertBreak, 101reykjavik, tom_cas1 (1 vote each)
Despite all the hoo-hah about avatars, we also decorate our posts with, generally, a much larger picture as a suffix, our own little stamp, our
signature
. Forever Low Man has more minimal aspirations for his signature though, namely lyrics from the 2003 hit Crazy Beat quoted by Consigliere_11 regarding Damon offering George W Bush a list of underrated music from television advertisements as a means to get him to party with him. Less is more, if you like, because here it wins with two votes. And I believe it was his signature last year too, something which unless I'm mistaken can also be said about everyone else who was voted for, i.e. me and my Bowie silhouette, MrMagpie and his (you guessed it) Beatles, munch and his joyed Damon in space (space is the place) and 101reykjavik with his hypnotic ice cream vans. So clearly, a bit of a reprise last year, albeit with the order of preference swapped about a bit.
12. STRANGEST OPINION
Winner: People thinking Hallelujah Money was a good song (2 votes)
Runners-up:
-'Is Blur a strange choice of favourite band' thread
-Blaming 11MGMT for their recap of Gorillaz phases before the new album
-tom_cas1 for thinking Eric Clapton is good
-Forever Low Man's circlejerking of Guided by Voices/Bob Pollard
-AdvertBreak "hates" Kid A (1 vote each)
Sadly, I'm tempted to boycott my own award ceremony in regards to the winner of this year's Strangest Opinion. If anything, I was surprised to find Forever Low Man enjoyed Gorillaz' comeback single "Hallelujah Money", but even more surprised to find I had to slither my eyes over the disdain almost everyone else gave it. So call me strange and send me on my away because apparently 2 voters recon that of I and several others. Marginally less strange than that was the "Is Blur a strange choice of favourite band?" thread (just be glad Blur aren't as 'strange' a choice as FLM's Guided by Voices), tom_cas1 holding Eric Clapton in a positive light, blaming 11MGMT for their recap on the phases of Gorillaz prior to the new record, Forever Low Man's never-ending fascination with the generally quite dull Guided by Voices or other Pollard projects (except a few things, and i quite like Circus Devils) and the annoying meme that I "hate" my favourite album of all time,
Kid A
. Fortunately that meme is generally kept to stale meme'rs on Facebook.
13. FUNNIEST THREAD
Winners:
-Three Word Story thread
-Three Word Story 2: Electric Boogaloo
-Word Association
-none
-all of them (1 vote each)
Some forumers wrote to me, "AdBreak, shite all was funny last year." Were they right? Evidently not, because this award ceremony can reveal there were several funny threads this year. For example, the Three Word Story thread was brought to its inevitable (anti)climax (and then Forever Low Man recorded himself reading the entire thing aloud and released it), while it was inevitably picked up again with its much hyped sequel, Electric Boogaloo. Both such threads got a vote and are equal winners with Word Association, no threads and all threads.
14. FUNNIEST POST
Winners:
-Anyone who expressed liking "Hallelujah Money"
-"moan, moan, moan" (tweedz)
-all of them (1 vote each)
Some forumers wrote to me, "AdBreak, I already told you, shite all was funny last year now leave me alone." Were they right? Evidently not! Because this award ceremony reveals that in fact there were several funny posts this year too, three of which stood out in particular, such as anybody expressing a positive approval of the 2017 Gorillaz song "Hallelujah Money" (C)2017, as well as
all
posts and also tweedz' "moan, moan, moan" post (even though that was 2015 and in fact was joint winner in last year's ceremony, le RIP.)
15. BEST MOMENT
Winners:
-The discussions on the B-Roads thread
-Anything discussing David Bowie
-New Gorillaz song
-Tom announcing he's off to the USA
-When Forever Low Man left
-all of them (1 vote each)
Plenty of best moments abound though, and each of them draw equal best this year. The turmoil and cripple circling on high in the B-Roads thread? Tick! Tom announcing his departure for the U S O A (the voter asks me to remind you because its good Tom is in a great place.)? Tick! Forever Low Man's initial departure? Tick! Hallelujah Money? Tick! Anything discussion regarding David Bowie (such as me hating on people hating Black Tie White Noise)? Tick!
ALL
moments? Tick!
16. BEST ALBUM THAT WASN'T BLUR
Winner: David Bowie - Blackstar (2 votes)
Runners-up: Syd Arthur - Apricity (1 vote), Kate Bush - Before the Dawn (1 vote), Nick Cave & the Bad Seeds - Skeleton Tree (1 vote), Guided by Voices - Please Be Honest (1 vote), Dan - Dan 11 (1 vote) and The Rolling Stones - Blue and Lonesome (1 vote)
Oh dear!
The Best Album Award
That Wasn't Blur?
Looks like we forgot to rename the award this blurry, Blur-less year. The estate of David Bowie though, who win this award, don't worry, because there are places now that can remove the "that wasn't Blur" engraving from the trophy and get it all looking pristine and gorgeous and expensive at the same time. So anyhow, David Bowie's tragically beautiful outro opus
Blackstar
was the best album
that wasn't Blur
this year according to this forum, and many others. Runners-up? A plenty.
Apricity
by Syd Arthur, Kate Bush's magnificent live record
Before the Dawn
, Nick Cave's dissonant and hurt
Skeleton Tree
, Guided by Voice's oh-look-we've-done-another-album
Please Be Honest
, The Rolling Stone's fuck-we-need-to-do-another-album-let's-just-do-roots-covers
Blue and Lonesome
and Dan's eleventh,
Dan 11
, were also the best album
that wasn't Blur
according to one person each. Oh and a word about
Dan 11
, one of many albums by our forumer 2dan4me released last year, yeah well the person who voted for that record was also considering King Crimsons' probably awesome live album
Radical Action
.
17. BEST MOMENT THAT HASN'T HAPPENED YET BUT PROBABLY WILL
Winners:
-That the Gorillaz new album will match-up to The Magic Whip
-Damon announcing new TGTBATQ album
-Rubi returning
-AdBreak's happiness
-New Gorillaz album announcement
-Genesis reunion tour
-(something violent i'm not gonna write out) (1 vote each)
.
Okay, so before we begin, we gotta look back at the nominations and winners of the Best Moment That Hasn't Happened Yet But Probably Will awards from
last year's
ceremony. It's time for reflection is ever there was a time. Okay so, last year's winner was "A brand new Blur album!/the follow-up album to The Magic Whip," and also getting a vote each were Graham's new album, Forever Low Man and AdvertBreak getting girlfriends, AdvertBreak and TripleJay97 finally admitting they are the same person, MsMagicAmerica meeting Damon, Alex signing up and attempting to sell his cheese, a new Gorillaz album, KingLouieLouie76's criticism of the next Gorillaz album,
B-Roads
leak and Tweedz answering every single question from the members of this forum
.
So we were sure those moments were
probably
going to happen right? Well few of them have, as it happens. There was no Magic Whip 2: New and Improved, there was no AdBreak and TripleJay97 admitting they're the same dude (I
wish
I was Jay), there was no Alex exploiting the vulnerable Blur-starved Blur fans for commercial gain, no tweedz n chill, no leak of Blur's own
Cocksucker Blues
, no MsMagicAmerica meeting Damon unless I'm mistaken, no new Gorillaz album yet released and no critique of said record by our resident KingLouieLouie76. And no girlfriend for me either, needless to say, which means the only thing that did come true was Forever Low Man getting one instead. It didn't last but, shooks, at least we got
something
right, right?
So where does that leave us this year. With a completely different set of expectations for things that will
probably
happen. I mean maybe last year's nominations did at least predict maybe one thing that'll likely be true, that Louie will hate on the new Gorillaz record, but besides that and FLM+GF, our hopes and dreams seemed to dash throughout 2016. Can confirm same for me too sadly. But we have re-assessed. We've reconsidered. We've decided
seven
things are the best things that'll likely happen. Which are?
That the new Gorillaz album, when it eventually arrives in the upcoming week/month/year, will equal the lofty heights set up by
The Magic Whip
, that Damon will announce a 10th anniversary The Good, the Bad & the Queen sequel in spite of him
still
laying off that Gorillaz LP, that Rubi will return, that my happiness is gonna come (ah shooks
), that one of me and 2dan4me's favourite bands ever, Genesis, will reunite for a 10th-anniversary-of-the-reunion-tour Tour, and um something violent that one forumer wrote (I won't say who. Forever Low Man.) that I shan't repeat cause we don't need beef kay?
18. THE DAMON BELT CLUB FOR BIGGEST GAP IN POSTING/SLACK ATTENDANCE
Winner: MrMagpie (3 votes)
Runners-up: TripleJay97 (2 votes), 2dan4me (1 vote)
.........................................oh sorry I feel asleep.
The above message was what MrMagpie should be saying as an excuse for his absence being noticed by as much as
THREE
people this year, winning this year
just like last year!
. A busy man with work and a family? He could be the subject of a Blur song! Oh wait, he is, I forgot "Magpie" even existed for precisely 0.0001 seconds. In other news, TripleJay97's sporadic presence was also detected most prominently by two people, as well as 2dan4me by one person. That one person was me. Wake up Dan.
Let's just make a deal with Magpie that, if he wins this award
again
next year, he'll have to give us B-Roads as compensation.
19. THE DAVE PRIZE FOR THE NICEST FORUMER SPONSORED BY FRED PERRY
Winners: KingLouieLouie76 and AdvertBreak (2 votes each)
Runners-up: Consigliere_11, JAIME, aldamasta and 101reykjavik (1 vote each)
Sponsored by Dave Rowntree's own fashion brand of choice, Fred Perry, we arrive now at the Nicest Forumer award. And here comes Dave to present it!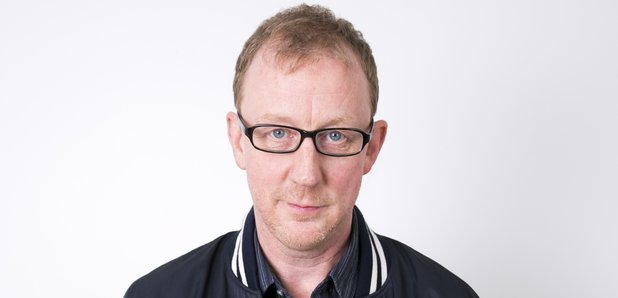 Lovely smile, Dave.
Dave: "Hi I'm Dave from the rock group Blur, and I present my Nicest Forumer award, on behalf of a ludicrously expensive sponsorship deal from my own fashion brand of choice™, Fred Perry, to AdvertBreak and KingLouieLouie76".
Ah shooks, another award. I feel loved <3 Nice to finally meet you at last, Dave. And to be frank, to show how much of a nice forumer I am, I'm gonna give the entire award to KingLouieLouie76 instead. Much better a whole trophy on his mantlepiece than half a tropy, right? I love being nice about people.
Dave: "Runners-up were Consigliere_11, JAIME, aldamasta and 101reykjavik."
Oh hahahaha, losers!
Dave: "If you keep that attitude up AdBreak I'll ban you from winning the next award, apologise."
Shit, uh, sorry guys. I was only joking anyway
20. BIGGEST OVERALL MUSIC GEEK
Winner: AdvertBreak (5 votes)
Runners-up: MrMagpie, TripleJay97 and KingLouieLouie76 (1 vote each)
Oh, heck!
So I win "biggest overall music geek" for the second time running. Thank you my dudes, it's nice to know my trivia can contribute something, even if just acknowledgement and enough of it for me to win this award.
TripleJay97: "yeah AdBreak, well, you write wikipedia albums on Dutch happy gabba compilations, early 1970s proto-synthpop space-psych-prog albums, early 2000s underground Celtic fusion LPs among other albums that largely appeal to niche markets only and you spend way too much time on websites like Stylus, ilxor and Freaky Trigger and want to chat about Cure B-sides all the time and you've already decided you want This Twilight Garden by the Cure or This Must Be the Place by Talking Heads as your wedding song and you have only ever had albums as profile pictures on Facebook except just recently when you had a screenshot of David Byrne from his 1984 self-interview instead and the only non-musical interests you seem to have are hill figures, Tango adverts and BBC Two idents, none of which have occupied your time in the slightest for at least six months so its just been music and music and wanting to cry while listening to Trembling Blue Stars'
Her Handwriting
or wanting to hug the world with a big wide smile while listening to The Magnetic Fields'
Holiday
"
You got me.
TripleJay97: "are you gonna say how I'm runner-up with Magpie and Louie?"
Ok sure.
Runner-ups are TripleJay97, Magpie and Louie.
21. SEXIEST MEMBER YOU'VE NEVER SEEN
Winners: tom_cas1, blurfrance, AdvertBreak and any female poster from Chile (1 vote each)
In an episode of the 2001 comedy series
The Armando Iannucci Shows
, it is said by Armando that no matter what man invents, man will eventually use it to churn out pornography. "When man first invented the wheel," Armando noted, "it wasn't long before someone said, 'ha! it looks like a breast', and soon enough teenage boys used to be caught hiding huge piles of wheels under their beds."
How does that related to the twenty-first award of tonight's ceremony, Sexiest Member You've Never Seen? Well, even though I hope we aren't quite as dirty minded as that ("
lol, you can talk Lee!
" Shut up), I feel there's a vague symmetry. A forumer who's never shown his or her face? Well soon enough you imagine them as looking sexy. The mind of the Blur forum is an intriguingly odd one indeed, it seems. And this year round, tom_cas1 gets voted for (despite him showing his face before), blurfrance, myself (except I'm uglee as hell) and any female poster from Chile (and yes, this was the same person who voted for "any of those beautiful Latina fans" last year.)
22. BEST/MOST POPULAR MEMBER OF THE FORUM
Winner: AdvertBreak (3 votes)
Runners-up: 101reykjavik (2 votes) and Mallard No. 22 (2 votes) and tom_cas1 (1 vote)
And now for tonight's final award, the prestigious
Best/Most Popular Member of the Forum
.
Well I gotta say thanks for having me win this award. I'm surprised I'm still popular here after my slimmed presence in the last year but regardless this is a bit of a confidence boost as I haven't been doing so well lately. 101reykjavik, Mallard No. 22 and last year's winner tom_cas1 also get a vote each!
Well, that's the end of the ceremony.
"Looks like we made it to the end."
Thanks and well done everyone! And just remember, we
can
make 2017 a better, more topical year, at least for us Blur fans, than the generally dry n' dour, dull as dishwater 2016, whether that relies on Damon and Graham putting out new music, Alex appearing on more daytime television or Dave doing Dave well, or not.
See y'all 2018!
Yours sincerely, AdvertBreak. (P.S. sorry if there is any mistakes, i did check it a few times but still.)